Here at The Tipi Company we pride ourselves on being able to offer our customers all-weather solutions, so that they can get the most out of their tipis.
For our hire company customers in particular, their busiest season is from May-September – largely due to the wedding and festivals that take place during this time. But what do they do outside of the summer? For their clients wanting a party in the low-season, how do their guests enter and exit the tipis? If you lift up the sides you risk your guests getting wet and cold inside, whereas if you use just a zip for entry and exit, if it rains, the water will drip straight into the tipi. Either option, we feel, isn't suitable. As a result, we designed and manufactured a range of entrance ways to keep your guests as happy (and dry!) as possible.
Our one-stop-shop is our Rain Kit which has been designed to fit neatly between two Big Hat tipis. Our kit comes complete with double oak doors, entrance tunnel with roof canopy and side sheets, and blanking panels either side. The benefit of these blanking panels is that you can zip them up or down dependant on the weather.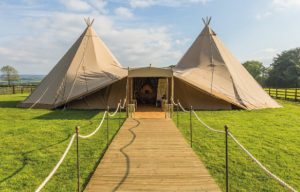 To fit the Entrance tunnel in between the two tipis, you require two lifter beams from your own stock – everything else is included in the kit.
Complete Rain Kit cost: £4175+VAT
You can also fit the Rain Kit into the centre of one Big Hat. For this, you will be required to purchase smaller sized blanking panels if you would like the panels to fit perfectly either side like the picture below. The cost of the extra Blanking Panels would be £825 + VAT.
Our blanking panels can be made in the same canvas as the tipis, or for those events where the views are perfect but the weather is not, you could invest in clear blanking panels.