If you are a business owner or manager in the restaurant or bar industry, you will know that as your business grows, the need for more space becomes a huge priority. When you have worked hard to develop a strong business model that has seen great success, it can be frustrating if you then face barriers to business expansions such as space limitations.
This is where other options such as using flexible and quirky tipis can help to create the extra space you need to generate more revenue. Many leading restaurant and bar chains have already benefitted from the increased space provided by our range of tipis and accessories. Here is how:
Create more space with minimal disruption
Of course, there are options to extend your business premises if you have room and can get planning permission. You may even consider moving premises altogether to find a bigger venue. However, both of these options are expensive and are disruptive to business, as well as taking a long time to get completed.
Tipis can provide a unique outdoor space that can be set up alongside your existing venue – we can even create a bespoke link to your building if needs be.
Cater to a wider variety of on-site events
Your vision may be to launch weddings at your venue, but it's worth factoring in all the other types of events you can host in the tipis to enhance your venue's offering and create revenue in the non-wedding season.
Popular uses for our tipis include corporate events, private parties, food festivals, drinks festivals, Oktoberfest, Christmas parties, Santa's Grottos and much more, adding much-needed variation for potential revenue streams for your business that otherwise might not have been available.
Flexible and creative layout options to maximise guest capacity
Our tipis are modular structures available in 4 standardised sizes for you to flexibly arrange and interlink. Three of these can be seamlessly interlinked together to create an event space large enough for your needs, available land or budget. This means you can get really creative with your formation while vastly increasing your outdoor shelter capacity.
Most of our venues opt for either two or three Big Hats linked together. Three Big Hats can cater for up to 180 people seated and the space required will either be 11m x 33m or 22m x 22m depending on the formation you choose.
Alternatively, if looking to compliment your tipi formation, the fourth design in our tipi range is the Little Hat. Measuring an impressive 7m wingspan, it provides the perfect rain shelter for your guests should they want to break free from the main tipi event. It is also the perfect option for bars & restaurants who have limited space available.
Our clients love our tipis and you will too
We have had some fantastic feedback from our happy clients such as The Oast House in Manchester's upscale Spinningfields area:
"We purchased tipis from The Tipi Company to accommodate Halloween parties, Oktoberfest, Christmas celebrations, weddings and private functions – and it worked perfectly! Every year we have the tipis installed at our restaurant in October and taken down at the end of January so that we operate as many events as possible within the space over a four-month period. They generate so much interest around the city, and every year we welcome hundreds of visitors – whether they are dropping in for a pint of ale, or booking out the tipis exclusively for a corporate event. We couldn't recommend the team at The Tipi Company enough – they are extremely helpful and always on hand from start to finish! Thank you again for providing such a beautiful structure." Jenny Fisher – Head of Brand Business Development at The New World Trading Company – The Oast House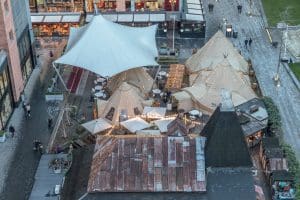 Tipis offer a unique outdoor event space, unlike the four white walls of a marquee
Marquees are so 90s and tipis are the future! Durable, waterproof and stronger than marquees in the wind, tipis are the better option not only from a practical aspect but aesthetically too. There is no need to buy lining to drape the inside or spend a fortune on decoration – a bonus for your clients. The tipis look great with fairy lights on all the poles without the need to dress them further, meaning less hassle for you and less hassle for your clients.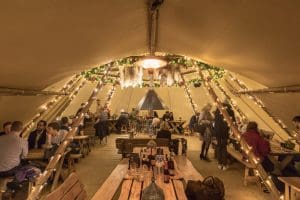 Installation without the hassle
Here at The Tipi Company, we offer a full Installation Service for all of our clients. We will build the tipis on a raised platform shaped to suit your formation. This will ensure that your tipis are off the ground level and therefore have no problems with rain leaking in underground. We can install the tipis on a permanent basis, or we can install for a three or four month period (e.g. over the festive season).
If you are interested in finding out more about how The Tipi Company can help your business grow, call us today on 01204 860 738 or email info@thetipicompany.com