The Tipi Company – Blue Sky Tipis
While the well-being of staff, customers and loved ones is always a priority, lockdown measures have heavily affected the hospitality and events industry.  
In these incredibly tough times, we saw an industry pull together to protect the most vulnerable in society. We feel it's only right to use this time to show support for our community of fantastic customers, showcasing their unique companies and dedication to the sector in the hopes that more consider their services once trading resumes! 
Let us introduce you to one of our fantastic customers, Blue Sky Tipis, a tipi hire company that specialises in the wow-factor. 
Background & beginnings
Ready to strike out with a creative pursuit out of the norm, Hannah Miller and James Smith co-founded Blue Sky Tipis in February 2019. Based in London but covering the entire South East of the UK (and beyond!), a love of events and the outdoors made them a perfect fit for a tipi hire business. 
"We wanted to create events that were sympathetic with nature but also had a real wow-element." says Hannah. "Tipis allow us to be flexible for our clients, letting them put their stamp on the event while creating something we're really proud of!"
Having decided that tipis were the way they wanted to go aesthetically, in The Tipi Company they chose a tipi provider with a great reputation, vast industry experience and "a big plus" of UK-based manufacturing.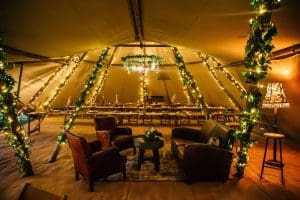 Main offerings
Blue Sky Tipis customers are eclectic and varied, with offerings ideal for business hire companies who want to make their outdoor space usable in the Winter, businesses needing a pop-up or focal point to an event, corporate events and parties, seasonal markets and weddings. 
They offer: 
Big Hat tipi hire for outdoor events
All the furniture and extras you will need
Expert advice on your event including power, portable toilets and all the logistics
Flowers, decoration, and event styling
Venue sourcing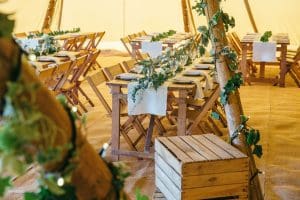 Standing out – how Blue Sky go the extra mile with decorations
One of the standout features of a Blue Sky Tipi is their ability to make every event feel unique for any customer. A huge range of tables, chairs, decorations and props for any occasion lets clients put their own stamp on the day, as well as providing the scope to cater for all kinds of events. From Weddings to corporate hire, huge formations or just a single tipi in a garden – Blue Sky Tipis create tipi events for anyone.
While this fantastic offering affords them a range of clientele, its client communication and transparency that is the key to setting up a great event. 
"We're used to speaking to all kinds of clients from both high-end to low-key events. We're professional, friendly and flexible which really helps us put all of our clients at ease." says Hannah. "We answer all questions and concerns, and offer clear, transparent pricing too. Our COVID policies guarantee cost-free date changes if necessary and even have a money back guarantee. They know they are in safe hands."
We asked Hannah: "What was your favourite event you provided tipis for and why?"
"I think the socially distanced, intimate weddings we completed this summer.  We have done lots of exciting events since launching but this was a new challenge.  We were able to mobilise quickly after the law changed to permit small weddings, making specialist floor plans to show how the households were socially distanced, and made it happen for the bride and groom when they thought it couldn't. That made it extra special."
The sky is the limit – what is next for Blue Sky Tipis? 
With several open days planned for 2021 still to be confirmed pending lockdown restrictions, Blue Sky have availability for 2021-2022 and are accepting bookings now! 
With a limited time 20% for any 2020 tipi hire ending soon, Blue Sky also offer any 20% off tipi hire for any NHS workers – a lovely gesture!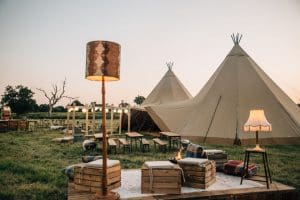 How to get in touch
"Our preferred contact is phone (0203 718 7355) as we love talking to our clients!" says Hannah, but you can also contact them through their website, Facebook, Instagram and through Hitched. 
Photographer credit – Rustic Hire