The Tipi Company do not just supply high-quality tipis for pubs, events and schools, they can also be found in zoos! We provide tipis to The Pairi Daiza Zoo in Belgium and have helped them to expand their exhibitions as a result. As a tipi manufacturer, we pride ourselves on providing top quality tipis to all of our clients so we're delighted that we've been able to help The Pairi Daiza Zoo in Belgium. If you'd like to find out more information about our partnership with one of the biggest zoos in Europe, continue reading.
What is The Pairi Daiza Zoo?
The Pairi Daiza Zoo in Belgium is one of the most prestigious zoos in Europe and welcomes over 2 million visitors every year. The unique zoo takes visitors through different worlds (each representing a different continent), where they will meet over 7,000 animals, including giant pandas, Asian elephants, water buffalos and more.
Since opening in 1993, when the zoo began life as a modest bird garden called Paradisio, it has grown considerably and now spans 190 acres of land. The zoo has now evolved into a world-renowned theme park and is considered to be the top tourist attraction in Belgium, offering an experience few other zoos can compete with.
In 2018, 2019 and 2020, Pairi Daiza was voted the "best zoo in Europe" and it is not just a day out. In 2019, the Pairi Daizi Resort opened which allowed visitors to stay overnight and make a full holiday of their visit to the zoo.
As well as being home to many exotic animals from around the world, the zoo has a stunning botanical garden and many other great attractions.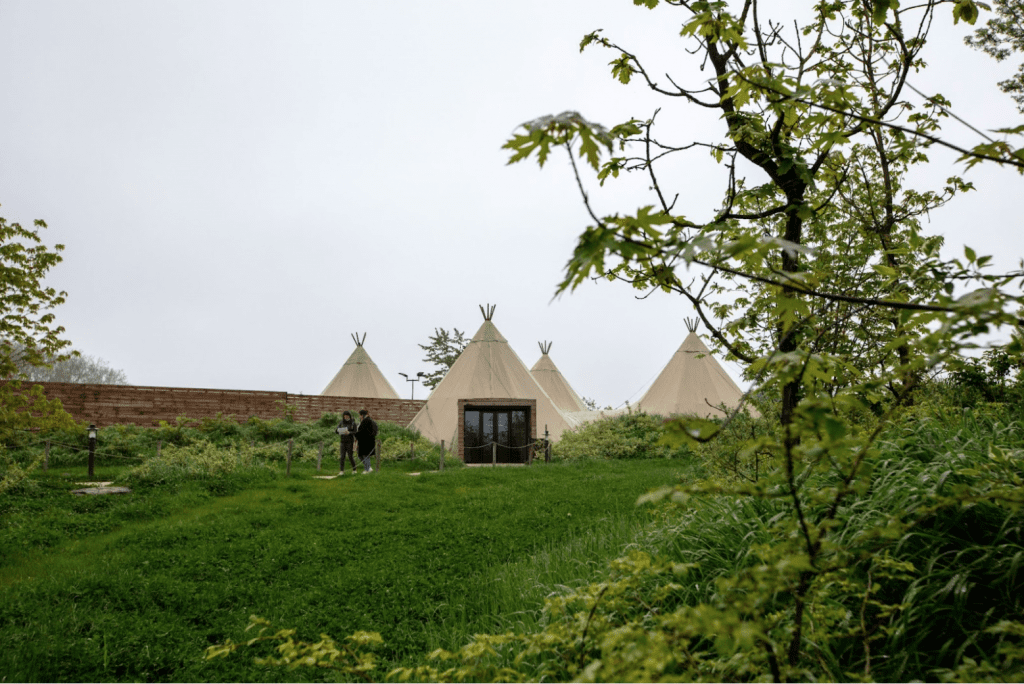 Due to the rapid pace at which the zoo had been expanding, they required outdoor structures that would stay in keeping with the natural yet mystical environment. They were looking for a structure that would provide a huge, sheltered area but also add character and intrigue to the zoo.
After an initial consultation to discuss their requirements and go through zoo layout ideas, gather the space measurements and additional information, our design team at The Tipi Company produced a visualisation of a large tipi tent formation. This plan incorporates four Big Hat tipis interlinking with one another, in an impressive diamond formation.
The zoo tent design also included sliding entrance doors, a wooden floor and transitions to the separate areas of the park. The management team at the zoo were impressed with what they saw and instructed us to go ahead, and now the tipi formation is the breath-taking centrepiece of their enormous zoo.
The tipi structure is a vital part of the zoo business plan as it can be seen for miles and really adds to the excitement as visitors enter the reception area through the front entrance of the tipis. The zoo has been able to create a large lounging area with a massive fireplace, while every aspect of the tipi structure has been custom-built and decorated to a beautiful standard.
This four-tipi formation with many bespoke aspects is the most complex setup we have built so far and the feedback from the zoo has been incredible. They love that the Scandinavian hand-picked timbers and beige canvas fit seamlessly within the zoo, enhancing the experience of being in nature.
The tipi formation has been a very valuable acquisition, helping them to accommodate the growing number of visitors each year, safely and comfortably.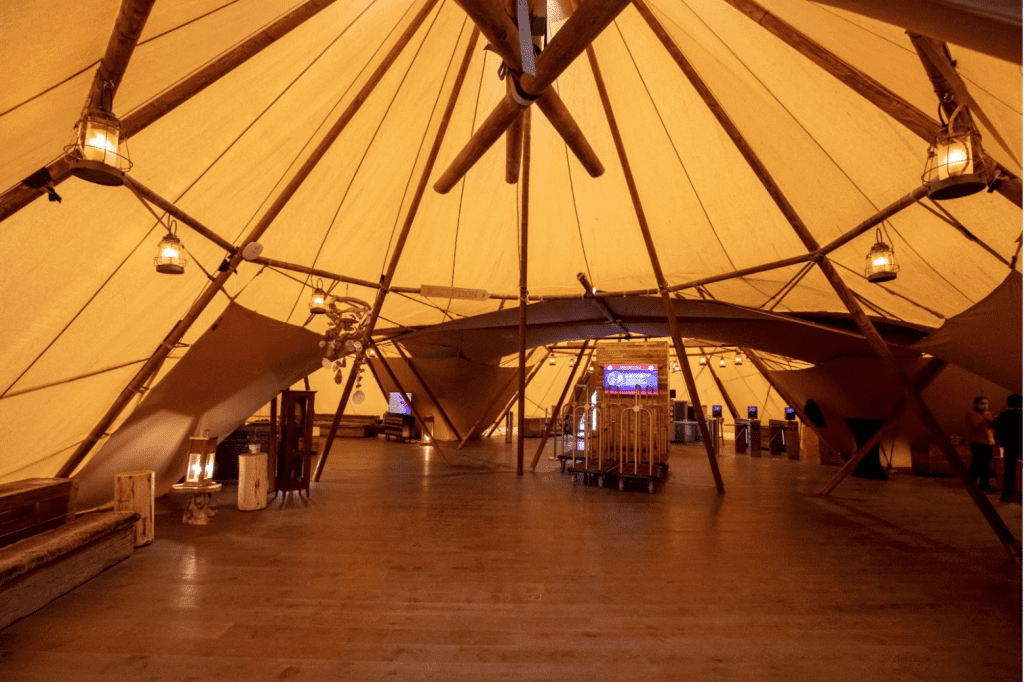 Help your business with a Tipi
If you're a business that has outdoor events scheduled in the near future, you should consider a tipi. For any tents for outdoor events, The Tipi Company has you covered! We helped the Pairi Daiza with a zoo marketing plan and exceptional tipis, so you can trust us to deliver.
To find out about the many different tipis available, get in touch to discover how we can help you achieve your business goals. Contact us today on 01204 860 738 or email us at info@thetipicompany.com.