The Tipi Company provides impressive outdoor space solutions in a variety of different options to suit numerous types of purposes. We've been providing exceptional quality giant event tipis to clients such as, restaurants, bars, wedding venue hotels and even schools. We really do have a solution for every need! To find out more about tipi tents for sale, continue reading.
All of our tipis are Made in Britain and are built to last, skillfully crafted by our technicians in our factory in Bolton. They're totally weatherproof and the canvas and other materials are extremely durable. This means that your tipi will be a valuable asset to your business for many years to come.
One of our most popular options is the Little Hat Tipi for sale in the UK. It offers great versatility for businesses looking to create a quirky outdoor sheltered area in limited space. With a diameter of just over 7 metres and a height of 5m, it creates enough space to accommodate up to 20-30 standing people. So, while it is called the Little Hat, it does still provide ample space for a range of social and professional gatherings.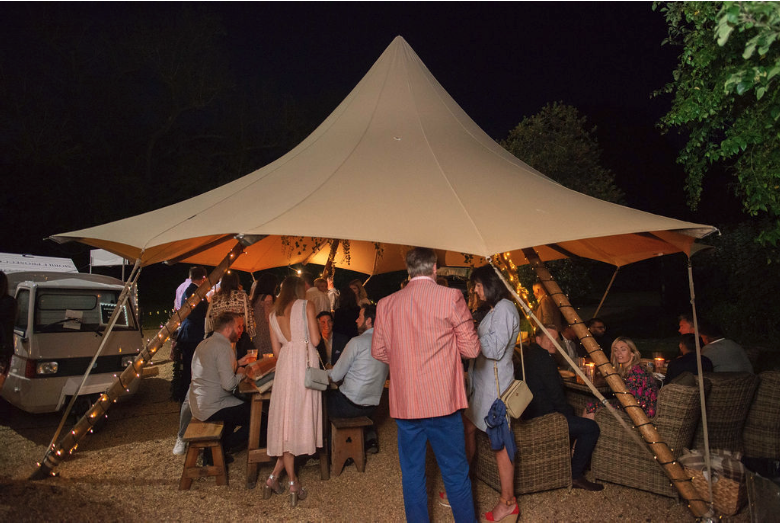 Our poles used for the construction of our tipis have been sourced from North Scandinavian forests where it is extremely cold, and hence slow growing. This makes the wood late maturing and of world-class quality. Due to the quality of the wood, the tipis are more stable than marquees in high winds as they have huge load-bearing strength and can be erected on all types of soft and hard surfaces, including car parks!
Many of our hospitality clients use our Little Hat tipis for creating outdoor structures for pubs, smoking shelters, outdoor food spaces or even a stunning VIP area for guests to relax away from the crowds. The size and versatility of the Little Hat also makes it ideal for use at trade shows as it can be assembled in around an hour.
We also supply a lot of Little Hat tipis to schools to provide outdoor learning space that can be used to deliver lessons under shelter, giving children a change of scenery to help boost engagement with learning. Schools also use the tipis to host events or to use them as a break area for lunch times.
Learning outdoors is a great way to get closer to nature and boost mental health and general wellbeing.
How to build an outdoor bar
If you're wondering how to set up an outdoor classroom, or how to build an outdoor bar, with our Little Hat tipi, you're in the right place!
The design of our Little Hat is to allow easy access from all sides. However, if you want further protection from wind or rain, you can purchase pairs of vertical terrace side sheets to act as a windbreaker in exposed sites.
The side sheets are made in the tipi canvas as standard. However, if you want to create a window to the surrounding views, we can make the side sheets in clear-view PVC, with extra zips to allow them to be rolled up when required. Please state this when enquiring with our sales team.

Another option for the side sheets is to create a food service section that links to a food truck. For example, a Land Rover pizza oven, or horse trailer.
Help your business with a tipi
If you're a business that has outdoor events scheduled in the near future, you should consider a tipi. For any outdoor events, The Tipi Company has you covered!
To find out about the many different tipis available, get in touch to discover how we can help you achieve your business goals. Contact us today on 01204 860 738 or email us at info@thetipicompany.com.