For a tipi that works in both beaming sunshine and pouring rain, the canvas is your first line of protection against the elements. Here are the features you need to look for to ensure your events aren't washed out – and how The Tipi Company have got you covered!
1. Water-Resistant
With the unpredictable nature of British weather and the potential for rain at the drop of a hat, it is essential that our Tipis are incredibly waterproof.
Whether you have a standalone tipi for a smaller event or a huge formation of Big Hat tipis for hundreds of guests, our link kits ensure not a drop of water gets inside the structure. We have a number of clients where we install the tipis on a permanent basis at their venues, in the wettest parts in the country, and all formations work perfectly to keep guests warm, dry and happy inside!
Our tipi canvas is rigorously tested using Hydrostatic Head tests over 24 hours, and as they're made in Britain we have full control over the manufacturing process to double-check the finished product is up to standard. Want to see our own fun test with a power washer? Click here to see how water-resistant our canvas truly is!
2. Durability
From the canvas quality to the way it is manufactured, to get the best return on investment out of your tipi it needs to last.
To stand up to any challenging weather condition, our tipis are manufactured with professionally graded canvas as standard, that means it's at no extra cost to you to have the best canvas on the market! All of our tipi canvases are reinforced along the edges with hard-wearing, tear-resistant, texturized nylon Cordura fabric which is sand coloured and adds a sympathetic contrast to the beige canvas. Fully weatherproofed and ideal for hot and cooler weather, our expert fabrication technicians use of advanced textiles methods to ensure our canvas sheets are extremely strong – ideal for use year after year!
3. Flame retardancy
The historical use of tipis and their shape revolve around indoor fires, and modern tipis are no exception. Being able to offer a safe event space with the aesthetic of an indoor fire to warm guests is a key selling point for many tipi hire and events companies.
The canvas fabric we use carries a lifetime flame retardancy certificate, meeting BS 7837, DIN 4102 B2 and NF 92-503 class: M2 standards. This results in a safe and secure tipi that's perfect for hosting indoor fires and that's what's important!


4. Sun protective & Colourfast
Functionality is great, but looking good is important too. Outdoor structures are exposed to all the elements, and the covering needs to stand up to whatever is thrown at it to stay looking new.  
Our visually stunning Tipi colours do not fade in the sun or wash out in the rain, all thanks to our non-fouling finishing process. Tipis canvas needs to be colourfast to stay stunning for any event in any weather.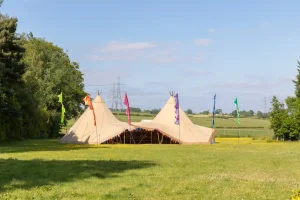 Our Tipis are available in a number of different sizes and come with the option of many addition beautiful accessories. If you are interested in our products or wish to have a look around our factories and tipi showroom at our headquarters in Bolton, Lancashire – please feel free to contact 01204860738 or email info@thetipicompany.com to arrange your 1-2-1 appointment and guided tour.