It has been a very challenging time for the events and hospitality industries but with the start of the COVID-19 vaccinations starting in the UK, this summer should hopefully be busy with lots of events and weddings being re-booked after getting cancelled in 2020.
As a venue with ample outdoor space, now is the perfect time to prepare for restrictions lifting and maybe even diversifying your offering to help make up for lost time and lost profit. Your outdoor space is ideal for monetizing by hosting events of all different types and sizes. 
Marquees have been used for outdoor event hosting for years but there are limitations with what you can do with them in terms of flexibility with capacity and layout. So, if you are looking to hit the ground running and attract lots of customers who are looking for a unique wedding venue, you should consider using tipis.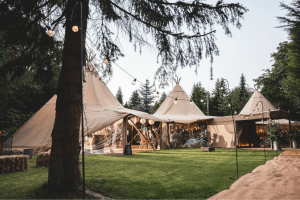 Why choose tipis for weddings and events?
A unique venue option
Now more than ever, couples getting married will be looking for the Wow factor, a day that will be unforgettable not just for them but for their guests too. The unique, quirky design of tipis really stands out and they can be decorated to create a romantic, breath-taking venue that will create lasting memories.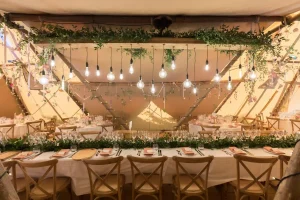 Flexible around capacity requirements
As well as offering a more unique and memorable venue to traditional marquees, tipis offer a greater level of flexibility. So, you can cater for small, cosy weddings just as easily as grand events with hundreds of guests. The Tipi Company provides a range of tipi sizes that can be used standalone, or that can be linked together to create an even bigger space that can cater for over 300 people. 
The Big Hat, for example, has a seating capacity of up to 50-60 comfortably,  and the sides can be lifted to join several tipis together to provide the required amount of space. A Baby tipi can be used for a separate breakout space, such as a dedicated children's area, linked to the Big Hat using a tunnel. If you have a selection of tipi sizes to choose from, as soon as you know the event guest numbers, you can design the perfect layout, incorporating the various tipis.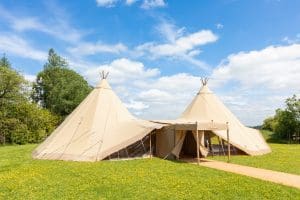 Fully waterproof and robust
Even throughout summer in the UK, the weather can turn a dream event into a nightmare, especially if the venue is not adequately set up to shelter guests from wind and rain. You can add Entrance Kits with clearview windows to your formation, along with  raised wooden platforms to situate your tipis onto,  so no need to worry about guests getting muddy walking on grass when it rains.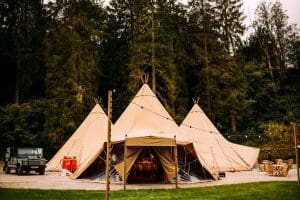 Host events all year-round
Due to our ground-breaking weatherpoof outdoor canvas and ability to install heaters inside the tipi, you can use our tipis all year round, outside the wedding season, for seasonal events such as Halloween, Easter,  Christmas parties and NYE celebrations. The tipis are incredibly durable, which means you will be able to use them to boost your revenue for many years.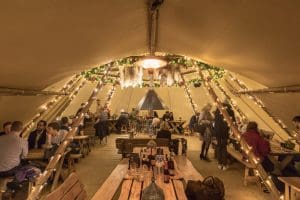 Our Tipis are available in a number of different sizes and come with the option of many additional beautiful accessories. If you are interested in our products or wish to have a look around our factories and tipi showroom at our headquarters in Bolton, Lancashire – please feel free to contact 01204860738 or email info@thetipicompany.com to arrange your 1-2-1 appointment and guided tour.